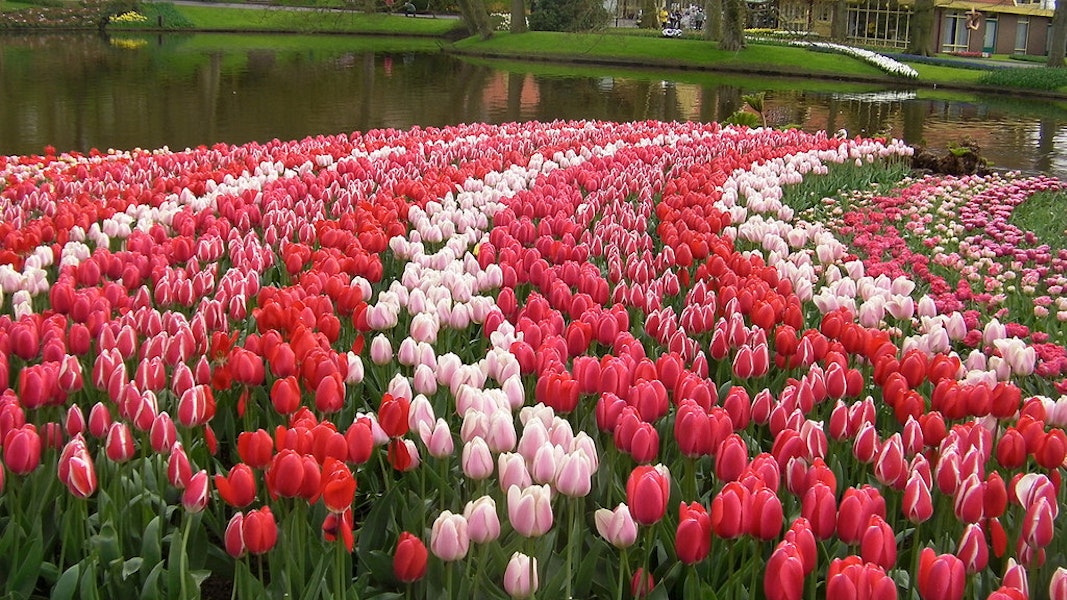 About Keukenhof Tulip Gardens
All About The Tulip Festival in Amsterdam
The annual Tulip Festival that is held in Amsterdam during spring brightens the town with tulips in various vases and pots adorning the streets. The Tulip Festival that goes by the motto — 'A Tulip for every citizen of Amsterdam' — strives to protect the iconic Dutch flower that has been witnessing depleting numbers. The annual event involves enthusiastic locals planting almost 800,000 tulips every year in during fall which end up blooming right during the festival in spring. The month-long Tulip festival hosts various enjoyable events that bring the town together. Some of which include a Carnival for children, Cruise Tours, Dutch dance workshops as well as several open-air concerts that bring life to the festival.
Indoor Flower Shows at Keukenhof Tulip Gardens
Once you're done walking around the tulip fields, step into the indoor pavilions brimming with flowering bulbs, cut flowers and pot plants. Inside these pavilions you can see over 500 growers presenting their prize blooms for leading flower arrangers to use in their unique shows. Here's a quick glance of what you can expect inside each pavilion.
Beyond the Tulips at Keukenhof Amsterdam
If you're looking to go the extra mile at Keukenhof, here are a few things you can do.
Whisper Boats
The landscaped gardens, pavilions and exhibits are the main attractions of the Keukenhof Gardens in Amsterdam. But your trip needn't end when you are done with seeing them all; you can choose to go on a boat trip through the canals that cut across the endless tulip fields surrounding the park. This 45 minute boat ride promises spectacular photos and a memeorable experience.Note, tickets for this boat trip is available only at the windmill in Keukenhof.
Keukenhof Rental Bike
Another way to explore the flower fields is to rent a bike and ride alongside the flower fields. A bike costs €15 for 3 hours or € 20 a day. We recommend you book your bike online and get a FlowerCard with your online purchase. The FlowerCard gives you a digital magazine about the surroundings of Keukenhof, tips for the best hotspots and get great discounts at the flower farm, museum, restaurants and souvenir shop. You can also score a few discounts on attractions and museums in Amsterdam.