About Keukenhof Tulip Gardens | The Largest Gardens in Europe
Contents
Keukenhof Gardens Overview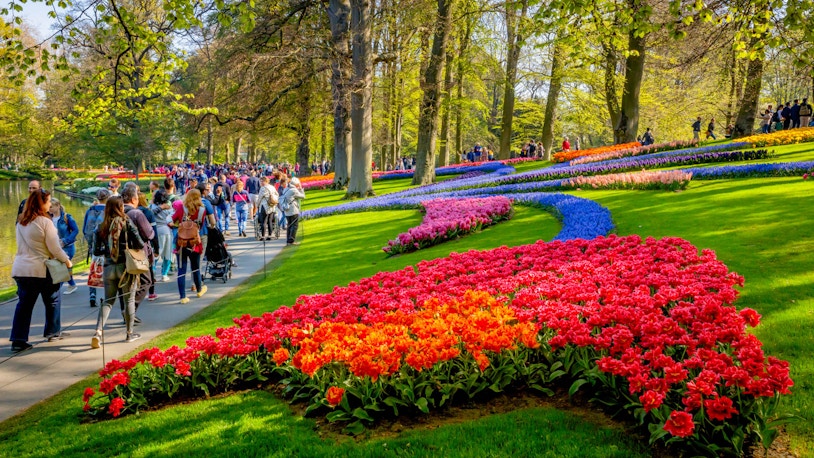 Location: Lisse, Netherlands
Opening times: 23 March to 14 May 2023
Established: 1949
Area: 32 hectares (79 acres)
Visitors: Around 1.5 million each year
Number of Flowers: 7 million bulbs planted each year
Book Keukenhof Gardens Tickets
The Best Tulip Garden in Amsterdam - Keukenhof Gardens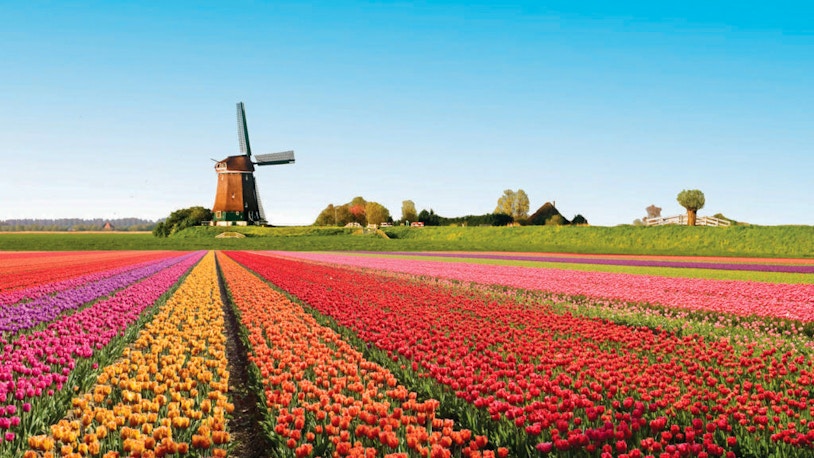 With more than seven million flowers, Keukenhof is not your regular park! Meaning 'Kitchen Garden' in Dutch, the 32 hectare Keukenhof Tulip Gardens in Amsterdam are one of the world's largest flower gardens. The garden was opened in 1949 to display the flower produce of the Netherlands, then a fledgling industry, the country is now the world's leading exporter of flowers.
Located in the town of Lisse in the region of Bollenstreek, a short ride of 40 minutes or less will take you to the Keukenhof Tulip Gardens from Amsterdam. Open only for a short duration during spring the garden hosts exhibitions, landscaped flower beds, installations, and sculptures to showcase the best of the tulip season in Amsterdam.
Why is Keukenhof Gardens Famous?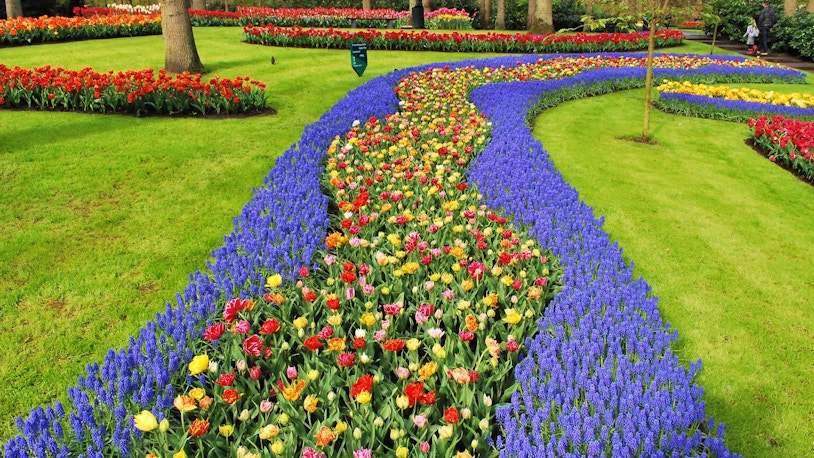 The Keukenhof Gardens are known all over the world for their tulips. Each year, over 7 million flower bulbs are planted across the gardens' 32 acres resulting in a stunning display of spring flowers. The riotous colors created by the tulips, as well as daffodils, lilies, roses, carnations, and hyacinths is truly a once in a lifetime experience.
Keukenhof also hosts an annual Tulip Festival between March and May which features flower shows, parades, musical events, and more. It attracts over a million visitors each year and is a highlight of the Dutch calendar.
Keukenhof Gardens Today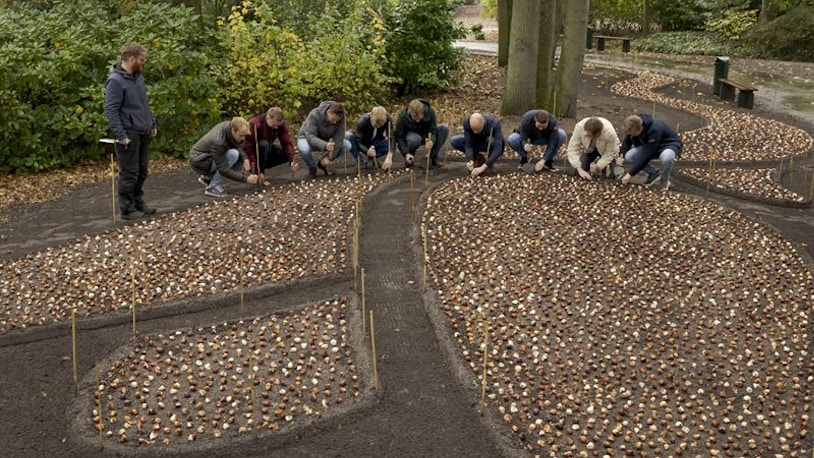 Today, Keukenhof Gardens is both a tourist site and a showcase for Dutch floriculturists. Each year 100 flower bulb companies and growers (the exhibitors) display a range of the best spring-flowering bulbs in their catalogs. 
The garden's designers create special designs for each of these companies and their flowers, to best feature their colors and contrasts. 
Keukenhof also serves as a nice location for artists who want to display sculptures and other works of art. This gives the park an added dimension of creativity. 
Additionally, 500 flower growers also present a wide variety of cut flowers and pot plants at the many flower shows organized throughout the season.
Highlights of Keukenhof Gardens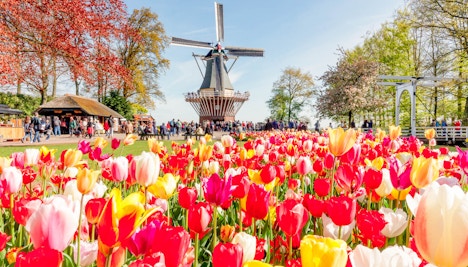 Tulip Gardens
The Tulip Gardens are the most famous attraction at Keukenhof. They are open during the Tulip Festival in the spring. Each year, over 7 million flower bulbs are planted by hand in the autumn. And in the spring over 800 different tulips come into bloom.  There are also flower shows, surprising inspirational gardens, unique artwork, and other events.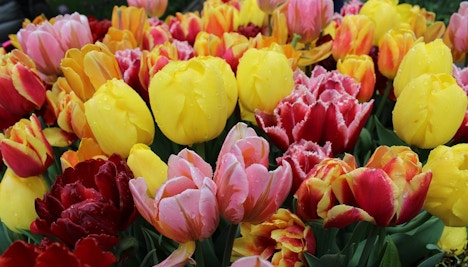 Indoor Flower Shows
Once you're done walking around the tulip fields, step into the indoor pavilions brimming with flowering bulbs, cut flowers, and pot plants. Inside these pavilions, you can see over 500 growers presenting their prize blooms for leading flower arrangers to use in their unique shows. These include hyacinths, daffodils, lilies, roses, carnations, and irises. Keukenhof Castle
It is also possible to explore Keukenhof Castle. Built in the 1600s and expanded over the years, this castle is full of interesting rooms and historic tales. Also called Kasteel Keukenhof, the entrance to the Castle estate is free (except during special events). You can also opt for a guided tour which costs around € 10.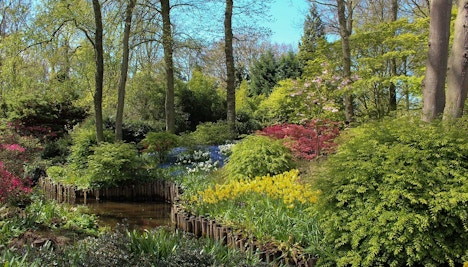 Keukenhof Castle Gardens
Apart from the tulip gardens, Keukenhof also has a number of other gardens. These include an English landscape garden with winding paths, a walled garden with historical plants, and a Japanese Country Garden. Additionally, there are also four pavilions that feature displays and flower exhibits.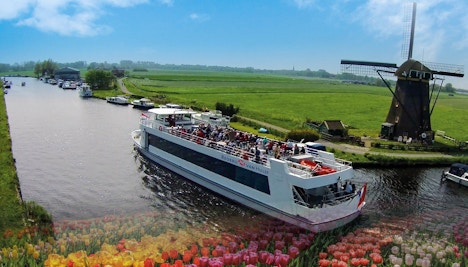 Whisper Boat
The landscaped gardens, pavilions, and exhibits are the main attractions of the Keukenhof Gardens in Amsterdam. You can also choose to go on a boat trip through the canals that cut across the endless tulip fields surrounding the park. This 45-minute boat ride promises to be spectacular.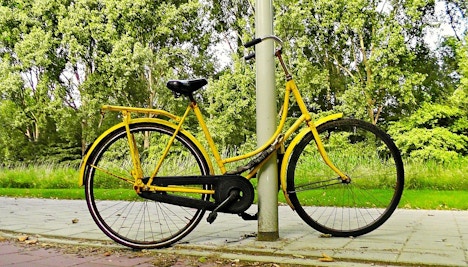 Keukenhof Rental Bike
Another way to explore the flower fields is to rent a bike and ride alongside the flower fields. A bike costs about €15 for 3 hours or € 20 a day. You can book your bike online and get a FlowerCard. It comes with a digital magazine about the surroundings of Keukenhof and information on the best hotspots.
Inspirational Gardens at Keukenhof
If you plan to visit the Keukenhof Gardens, make sure you visit these themed inspirational gardens. Each year there are different themes depicted, and these are the themes at Keukenhof in 2023.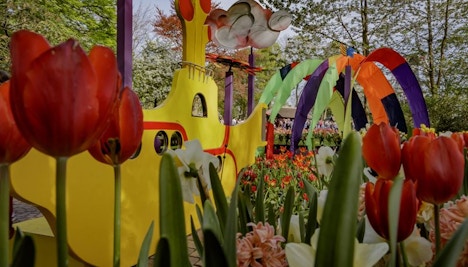 Reconnection Garden
The Reconnection Garden is made using sustainable materials. The whole idea of it is to appreciate and give back to nature. It is one of the most popular attractions in the Keukenhof gardens.
Tropical Beach Garden
Enjoy a tropical atmosphere under palm trees right here at the Tropical Beach Garden. This one exudes full-on beach vibes with beautiful flowerbeds, boats, hammocks, and sand. It's the perfect place to relax and chill out with your friends or family.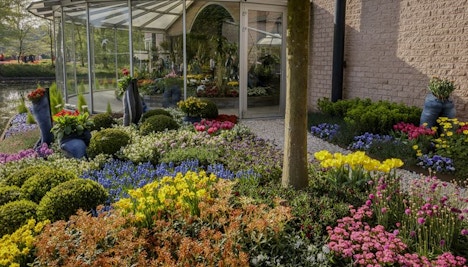 Green Tea Garden
The Green Tea Garden boasts a wide range of herbs like mint, lemon balm, chamomile, aniseed, and several other plants. Sit back and enjoy a fresh cup of tea or coffee at the greenhouse inside the garden.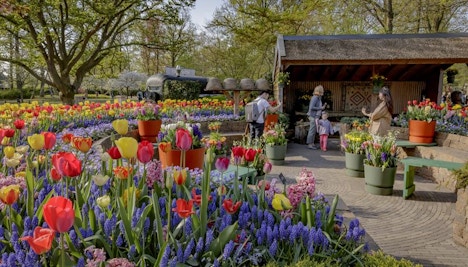 Cottage Garden
The Cottage Garden is the perfect spot to relax after a hectic day outdoors. Find yourself in the company of indigenous wild plants and flower bulbs right here in this garden.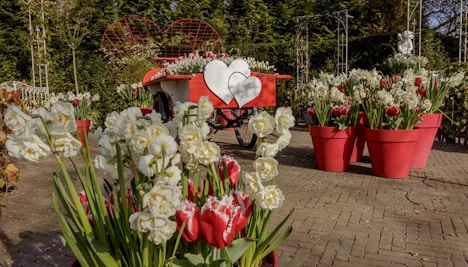 Red Romance Garden
Go for a walk with your loved ones at the most romantic spot in Keukenhof – the Red Romance Garden.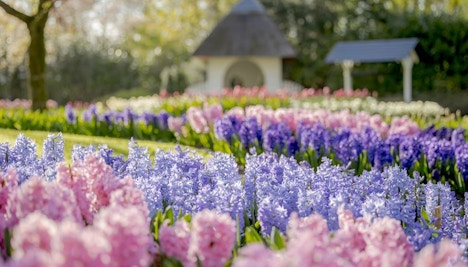 Delft Blue Garden
See the best of Holland in this garden. You can walk among lots of blue and white spring flowers, water, and, of course, windmills.
Plan Your Visit to the Keukenhof Tulip Gardens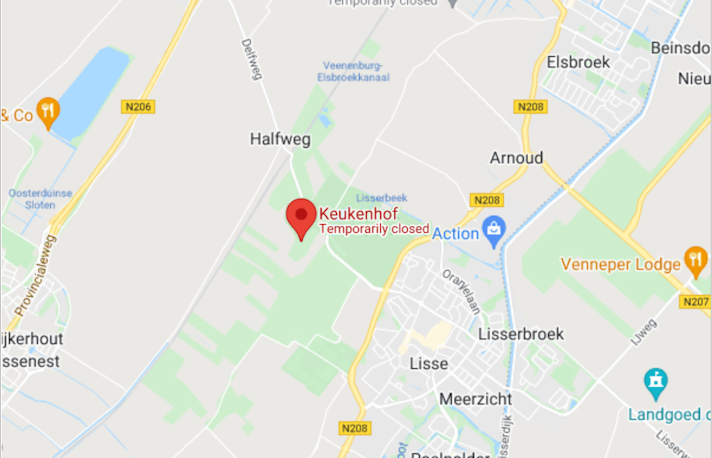 Location
Address: Stationsweg 166A, 2161 AM, Lisse, Netherlands
Keukenhof Gardens are situated in the municipality of Lisse, in the Netherlands. Lisse is easy to reach from Haarlem and Amsterdam.
Getting to Keukenhof Tulip Gardens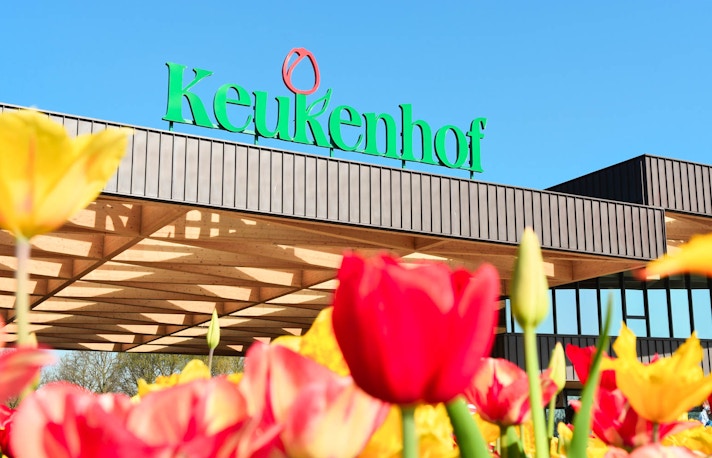 Opening Hours
Keukenhof is only open to the public for an 8-week tulip display from mid-March to mid-May.
Days: 23 March to 14 May 2023
Opening Hours: 8 AM to 7:30 PM
Keukenhof Opening Hours
Book Keukenhof Tulip Garden Tickets
Design & Landscape of the Keukenhof Gardens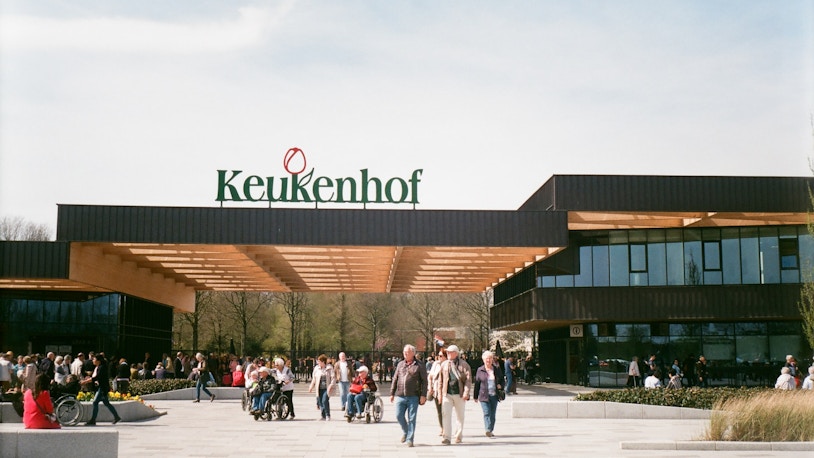 The first gardens at Keukenhof were designed by landscape architects J.D. Zocher and his son. However, in 1949 a section of the gardens was repurposed to exhibit tulips and other spring flowers. In 2016, a new main entrance and gatehouse were constructed by Dutch architects Mecanoo. It features an open roof made of timber triangles that create a spacious and light atmosphere and a fence with a tulip motif.  
Inside the gardens, each year seven million flower bulbs are planted across 32 hectares in new and innovative designs.
Frequently Asked Questions About Keukenhof Tulip Gardens
What are the Keukenhof Gardens?
The Keukenhof Tulip Gardens are the world's largest flower garden. Each spring over 7 million tulip bulbs burst into bloom, along with a variety of other flowers. It also hosts several events and activities, attracting visitors from all over the world.
Where is Keukenhof Gardens located?
It is located around 35 km south of Amsterdam in the small town of Lisse.
Do I need tickets to enter Keukenhof Gardens?
How much do Keukenhof Garden tickets cost?
Tickets to Keukenhof Tulip Gardens are available starting from €33.
Is visiting Keukenhof Gardens worth it?
Yes, a visit to the Tulip Garden is absolutely worth it. Each year, the Keukenhof Tulip Gardens is only open for 60 days, and during this time, the Keukenhof Tulip festival is held. You will be able to view 800+ different varieties of Tulips, apart from other flowers, spread over 79 hectares.
What are the opening hours of Keukenhof Gardens?
The gardens are open daily from 23 March 2023 to 14 May 2023, from 8 AM to 7:30 PM.
Does the Tulip Festival take place at Keukenhof Gardens?
Yes, the Keukenhof Tulip Gardens hosts Holland's Tulip Festival in the Netherlands during the spring.
When is the Tulip Festival being held at the Keukenhof Gardens?
The Tulip Festival will be taking place from 23 March 2023 to 14 May 2023 at the Keukenhof Tulip Gardens.